Course details
Party course 7 dishes + all you can drink 16 - 17 Hours limited start 2300 yen (excluding tax)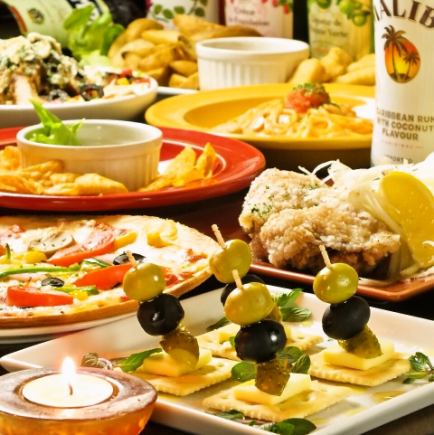 By using a coupon2300 yen
From 16 o'clock to 17 o'clock Started tax excluded
All-you-can-drink available

120 minutes drink all you can drink more than 100 drinks ♪
Available days for reservation

Monday - Sunday - Public holidays - Holidays
Early hours are even more advantageous! This is a fruit with all you can drink on seven dishes !! Basically it is a two-hour system, but since it is a consultation on the course contents and drinks and unlimited time etc., please do not hesitate to contact us.
Course menu
Cheese cracker with honey
Caesar salad with hot beads
Chicken nugget & potato
Onion rings & potatoes
Peach meat's frit salt lemon sauce
Mix pizza
Mentaiko's cream pasta
All-you-can-drink menu
· Beer & cocktail
· Clear Asahi, Shandiger, Dogs Nose, Cassis Beer, Red Eye
·sour
· Lemon Sour, Lime Sour, Calpis Sour, Orange Sour, Oolong High, Umeboshi Sour, Green Apple Sour, Calpis Orange Sour, Cha Tea High, Soba Brown Hi etc.
· Shochu
· Black Kirishima (Potato ·, Kume Sen (Awamori · Okinawa), Rural (Wheat) Tall Tower (Shiso)
·wine
· Red: White Carlos Rossi etc
·whiskey
· Goodness, white horn, Canadian club
·Sake
Magnificent
·Cocktail
· Jin / Vodka / Lamb / Tequila base tonic · Soda · Ginger ale · lime · lemon · cola, cassis orange, spumoni, kalua milk, malibu milk etc.
2017/02/22 update